Welcome to more (possibly) flimsy interpretations of Morrissey's Maladusted album.
In our previous and initial blob part, we left off after Alma Matters, but first I want to pick-up on some additional thoughts that my final brain cells had on some of songs already addressed.
Ambitious Outsiders - updated
I was thinking about the Jimmy Savile connection and listening to the song when it struck that I heard additional "evidence" to back-up my claim concerning Savile and Top Of The Pops. What's that short, sharp sound at the start?
Static
! White noise, actually, I think. Like that heard on a radio or analogue TV.
A reference to the mass electronic media, which provided Savile his day job and which brought him and the dreaded Devil's music beyond the bolt-locked doors of otherwise safe and secure Lancashire homes.
And another thing:
when you are
giving, giving, giving
and we're receiving-
No, no, we're taking
But you were probably there already. Yes, giving over kiddies, but part of his scheme was to do charitable work in return for access. He was a
great fundraiser
. You know where I'm going with this.
Sir Jimmy with Dame Margaret, giving.
Trouble Loves Me - update
Is there a Jimmy reference or few here?
See the fool I'll be
still running 'round
on the flesh rampage
still running 'round
Ready with ready-wit
still running 'round
on the flesh rampage
-at your age!
go to Soho, oh
go to waste in
the wrong arms
still running 'round
Trouble loves me
seeks and finds me
to charlatanize me
which is only
as it should be
Sir Savile certainly was on some kind of
flesh rampage
in the
wrong arms
and he would have been over 70 (Morrissey only 39) at the time of the song's release -
at your age
. Savile
frequented London's Soho for trade
and
was a kind of court jester
(aka, a
Royal's professional fool
). Indeed, like that song from The Court Jester, you could say that he was the Maladjusted Jester. And what does the Royal fellow in the clip below say about the
lovely little wench
?
Come here my child...
How could you be
so ugly and as popular
as Jimmy? Not just the hair, but bulgy eyes that look like their filled with that alien black oil infection from the X-Files,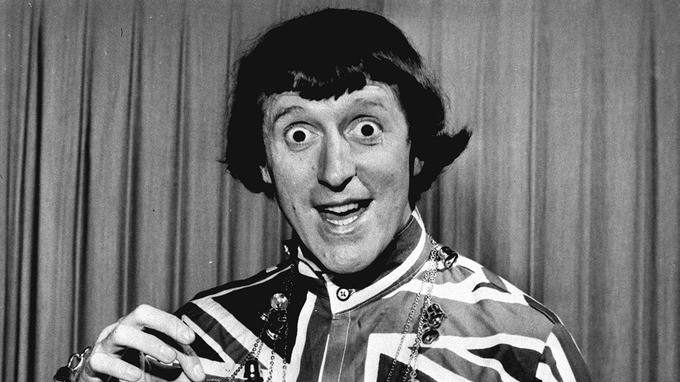 Not the last to wear a Union Jack.
Wizardry? Maybe.
But what about r
eady wit
? To quote from
an article on a play about Savile
:
His easy wit and rough-diamond charm made him not merely appealing but also irresistible.
As explained in the Maladjusted Jester:
Your majesty I have a confession my secret I must now betray
I was not a born fool it took work to get this way...
She took one look at me and cried hehehehehe, he?
What else could he be but a jester...
Beyond being a jester, he was a charlatan for sure.
Just I thought I'd share.
And no, I don't think these songs are about
Saint John Peel
.
Damn, I should have called this series of posts the Maladjusted Jester Code.
Anyway, I'll get to part 3 and the other songs soonish.